The pulp, paper and supplier industry will meet also this year at the Zellcheming Expo 2019 in Frankfurt/Main, Germany. From June 25th to 27th the company emtec Electronic will present their innovative measuring devices in hall 4.1 at the booth no. G18, by which the complete production process can be controlled and guided in the right direction.
At the beginning of this year, emtec Electronic celebrated a great success: the 300th TSA Tissue Softness Analyzer has been sold. The device is now u
sed in 48 countries, in each part of the world. Especially for tissue products, the TSA gives reliable and objective information about the three basic parameters, which determine the human feeling, the softness, roughness and stiffness. From these three, an overall hand feel value can be calculated.
New for hand sheet measurements: an updated version of the TSA and an improved measuring method for hand sheets (made in the lab) enables a reliable prediction of the final product quality in the lab without expensive machine trials.
Two of the m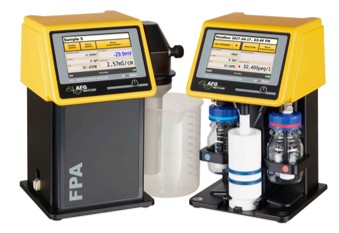 ost-modern measuring systems for the wet-end are the CAS touch! to measure the particle charge, and the FPA touch! to measure the surface charge of fibers. The small and light devices help to optimize the utilization of chemicals with the target to stabilize the process, to improve the product quality and to reduce costs.
The ACA Ash Content Analyzer enables the determination of the mineral filler content without combustion, that means without destruction of the samples, within seconds. Both, the total mineral filler content, as well as the individual filler components (e.g. calcium carbonate, kaolin/talcum, titanium dioxide, iron oxide) and their percentage distribution are measured.
Besides this, the EST12 emtec Surface & Sizing Tester is shown. A device to determine important and for the converting relevant paper surface properties such as surface hydrophobia / sizing as well as the surface porosity, which influence printability, coatability and gluability of paper and board. The PDA.C02 Penetration Dynamics Analyzer as modular system is the equivalent, that delivers additional information by the use of different modules.