TSA - Tissue Softness Analyzer
Traditionally, the hand feel of a tissue product  has  been tested by the human hand, in the best case by human hand panels. The human feeling depends on several factors, e.g. personal and market specific preferences, the daily mood and the culture. A further disadvantage is the inability to feel the three basic haptic parameters, which determine the overall haptic impression of a material that is touched by the hand. 
The emtec TSA Tissue Softness Analyzer objectively measures the micro-surface variations (feeling of softness), the macro-surface variations (feeling of roughness) and the in-plane stiffness of any kind of tissue paper (base material and finished products).
The TSA measuring instrument and measuring method are internationally patented and protected.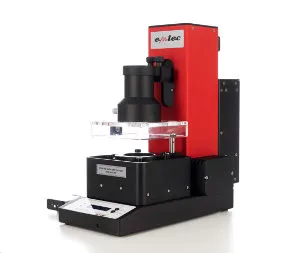 ---
Product description
Softness, roughness and stiffness are the three basic haptic parameters, which determine the human hand feel. But, in comparison to the human hand, the device provides these three parameters as individual values. By the help of special algorithms, these three single parameters can be combined to so-called hand feel (HF) values. With the right mathematical model, a correlation to the human expectation of up to almost 100 percent is possible.
The emtec TSA Tissue Softness Analyzer is already subject of a released TAPPI Technical Information Paper (TIP). The critically peer-reviewed technical specification document investigates the specialized measuring instrument that is able to simulate the sensory properties of the human hand when touching tissue paper products. TAPPI TIP 0808-07, titled "Objective Determination of the Haptic Properties of Tissue Products, Technical Information Paper TIP 0808-07 (2021)" covers the theoretical background of haptics, how the TSA device measures the three basic parameters for determining haptic feel, and discusses application possibilities for the paper manufacturing process and quality assurance. For more information on TAPPI Standards, Technical Information Papers, or Useful Methods, visit here. 
---
Users
Universities & Institutes
---
Technical data
device dimensions
19 x 44 x 47 cm (W x H x D)
supply voltage
115-230 VAC, 50/60 Hz
sample dimension
112,8 mm