Rethink Paper!
emtec Electronic is doing it successfully for 25 years
The German company emtec Electronic GmbH with its office in Leipzig, Germany, develops, produces and sells paper testing equipment successfully for 25 years now.
The different products can be used in many different steps of the production and converting in the paper industry: R&D, process and product optimization, trouble shooting and complaint management as well as the incoming control and quality assurance are the application areas of emtec test devices.
In 1995 the company started with only four people and one product. Today the company has around 32 employees, is also active in the nonwovens and textile industry, and offers 13 different devices with several modules in more than 80 countries with a global sales network of 32 independent representatives.
1995
After studying physics, Mr. Giselher Gruener worked as head of the research and development department at the IGT Institute of Graphic Technologies. After the German reunion, he founded the company emtec Electronic GmbH in 1995 together with the company Muetek, later Muetek BTG, and started with the introduction of the PDA measuring system Penetration Dynamics Analyzer with several modules for special applications (coating color, printing ink, adhesives and oil) to predict the converting properties of paper, liner and board.
1998
Emtec's strategy of best possible service and support, highest possible customer satisfaction, high quality of its products in connection with very helpful, accurate and reliable test results has proved successful and led to very good long-term relationships with customers and partners.
2002


In 2002 the innovative PEA module Print Evenness Analyzer for the PDA system was presented to determine the mottling behavior of printing paper. And maybe something to chuckle about: at the end of the emtec product guide version of 2002, a part of the emtec team was shown with the former contact data.
2004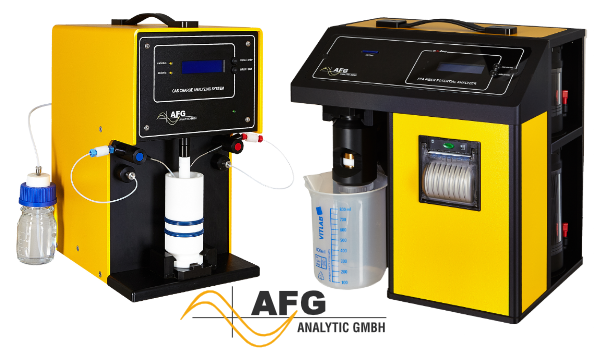 In 2004, Giselher Gruener and others founded the company AFG Analytic GmbH. In close cooperation with emtec, two new and at this time state-of-the-art wet end test devices could be introduced to the paper industry. The CAS Charge Analyzing System to measure the charge of fiber suspensions – it was the first equipment with integrated titrator. Two years later the FPA Fiber Potential Analyzer was developed to measure the surface charge of the fiber (Zeta Potential). Emtec Electronic has the exclusive right to distribute the two devices worldwide.
2013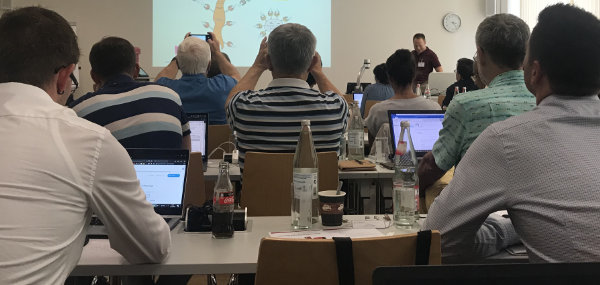 Since 2013 emtec invites all of its international representatives every two years to Leipzig to share the latest knowledge and experience as well as information about new products and application areas. Three interesting days with excellent discussions. These meetings are not only business meetings, it feels more like meeting family and friends. Emtec organizes good dinners and nice get together every night, including a big BBQ as a recompense for the tight seminar schedule during all three the days. It is always a great experience to have so many of our partners here together at the same time, it is great input for further improvements and innovations.
2015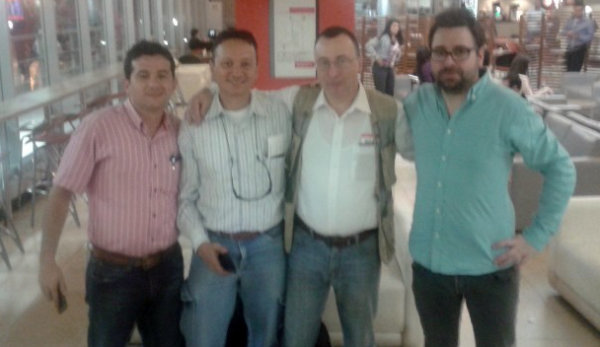 Mr. Daniel Ohndorf, who is the most senior employee of the sales department, was asked to add some words about a travel experience he likes to remember: "I have been working in emtec for 20 years now and certainly there have been a lot of interesting, funny and weird episodes in the course of that time. One memory that always makes me smile when it comes to my mind is a fun story from a trip to South America: I went there with my colleague Ulli Kasten and right from day one it became a very busy trip with several customer visits per day and daily relocation by airplane overnight. So not much time for other things during this trip. Still I remember that in one of these flights – I believe it was from Bogota to Quito – it passed midnight and it turned to be Ulli's 50th birthday. Still he preferred to use the flight for having a nap. So, our Colombian colleagues and I took the chance to secretly arrange a small birthday party on the plane including a tiny cake and Champagne provided by the flight crew. On the stroke of midnight, we woke up Ulli – and probably some other people on the plane – by our "Happy Birthday" chant. He was really surprised and happy and the rest of the flight was a quite hilarious one."
2016
The latest innovation comes again from the partnership with AFG. Together the improved and new designed CAS touch! and FPA touch! have been introduced to the industry in 2016. The two updated and upgraded test devices didn't change their measuring principle, but on other fields a lot of improvements could be realized, which makes them again state-of-the-art. With their small size and light weight, it is easy to carry them, the touchscreen enables an easy and intuitive handling and with the PC software deeper analyses of the tested material are possible.
2017
In 2017 emtec organized its first yearly workshop for the corrugated board industry in Leipzig. Experts from the industry present results from their work with the EST12 Emtec Surface & Sizing Tester or PDA.C02 Module Standard and how they use the devices to optimize their processes and the quality of their products. Different experiences are shared, which often leads to interesting discussions and new ideas. Since 2017 organizes these workshops on a yearly base, usually early in the year.
2020
Besides innovative products that have been developed and improved over the last 25 years, emtec is also flexible enough to take uncommon and new paths if special situations make this necessary. A good example is a customer visit during the peak of the Corona restrictions, which was done by Ullrich (Ulli) Kasten and Stefan Ruebesam outside on a parking lot while keeping the necessary distance.
Giselher Gruener, General Manager of emtec Electronic GmbH says, that "the most important factors for the success of emtec has been and still are: Innovation, worldwide intensive sales and service activities, highest professional level, customer friendliness, employee satisfaction, flexibility and cost awareness."
General Manager of Shanghai Forest & Paper Scientific Instrument Co., Ltd., Mr. Hu Yuntao said, he feels always impressed by the emtec team: "Thinking about the emtec team, I feel creative, friendly and flexible to the customers and the market as well. The instruments and products surpassing so-called standard targets to help trouble-shooting and to solve real problems of paper conversion!"
 "Congratulations Emtec's 25 years anniversary!", says Ankrin Kaewpralom, General Manager of Certified Lab Consulting Co. Ltd. (emtec representative located in Thailand). "Actually, I have had no wonder at all that someday Emtec will become a great and successful company like today. I could foresee this since almost 20 years ago when I first met Gis. […] Now at CLC, we do not feel that Emtec is only a business partner but we feel Emtec like family. We have passed and shared many things together. We fight together, we win together and sometimes we console each other. I personally be very happy anytime visit Emtec in Leipzig as I feel like home there. I wish this feeling will remain the same and even more and more every day."