The paper and packaging professionals will meet again this year at Tappi´s PaperCon 2019 in Indianapolis, Indiana, USA from May 05th to 08th. At booth no. 707, the company Technidyne will be the contact for all inquiries regarding the innovative testing equipment from the German company emtec Electronic GmbH. The representative from the U.S. will showcase a variety of testing instruments by which the complete production process can be controlled and guided in the right direction. From the wet end to the finished product, the application of the equipment enables an efficient process, to get the best possible quality with the lowest possible costs.
The smalles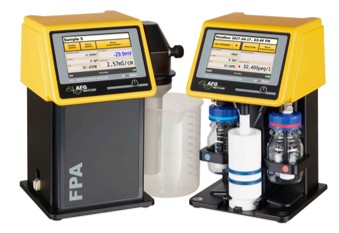 t, lightest and most-modern charge measuring systems for the wet-end in paper and board production are the CAS touch! and the FPA touch! These instruments are used to measure the interaction between particles or fibers with additives and process chemicals in the pulp suspension. The use of both instruments in the production process helps to optimize the utilization of chemicals with the target to stabilize the process, to improve the product quality and to reduce costs.
Besides this, the EST12 emtec Surface & Sizing Tester is shown. A useful tool to determine those surface properties of paper and board, that are relevant for the converting process, in particular the surface hydrophobia (sizing) as well as the surface porosity. Both parameters help to predict the converting behavior while printing, coating and gluing. The usage of the device enables the optimal runnability during the finishing or converting processes of paper and board.
Especially for tissue and nonwoven products, the popular TSA Tissue Softness Analyzer gives reliable and objective information about the three basic parameters, which determine the human feeling: the softness, roughness and stiffness. From these three, an overall hand feel value can be calculated. The availability of these values opens a huge amount of chances to optimize the tissue production and converting processes. New for hand sheet measurements: an updated version of the TSA and an improved measuring method for hand sheets (made in the lab) enables a reliable prediction of the final product quality in the lab without expensive trials at the tissue machine.