As every year, emtec Electronic will attend the ABTCP in Sao Paulo, Brazil. The exhibition takes place from October 23rd to 25th. The German producer of innovative lab and online testing equipment can be found at booth no. 137/138 together with its Brazilian representative Elof Hansson.
Emtec will present the state-of-the-art charge measuring systems CAS touch! and FPA touch! Both devices are used to optimize the wet-end proces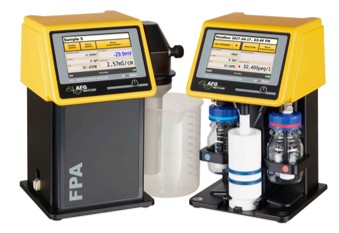 s, by measuring the interaction between particles or fibers with additives and process chemicals in the pulp suspension. The use of both instruments in the production process helps to optimize the utilization of chemicals with the target to stabilize the process, to improve the product quality and to reduce costs.
Another device that can be used in the wet-end of the tissue and paper production is the DFA – Dynamic Filtration Analyzer, which helps to determine the influence of chemicals on drainage and retention behavior.
But, also producers of base and final products will find innovative measurement equipment at the booth: the well-known TSA – Tissue Softness Analyzeralyzer which is used to reliably assess the Softness, Smoothness/Roughness and Stiffness as well as the overall Hand Feel of tissue and nonwoven materials. Additionally, the EST – Surface & Sizing Tester is shown. The EST is a useful tool to determine important paper surface properties such as surface hydrophobia / sizing as well as the surface porosity, which influence printability, coatability and gluability of paper and board.