The Italian tissue and paper industry will meet again from October 10th to 12th in Lucca and the German company emtec Electronic GmbH will attend together with the Italian representatives Qi Srl and Metreo Srl. An interesting selection of their innovative testing instruments for the pulp, tissue and paper industry are shown on the upper floor, booth no. 5B.
Displayed at the booth will be the state-of-the-art CAS touch! to measure the particle charge and the FPA touch! to measure the surface charge of fibers (zeta potential). Both devices help to get information about the efficiency of the chemicals, which are added during the paper, board and tissue production.
Besides this, the EST12 emtec Surface & Sizing Tester, a device to determine important paper surface properties such as surface hydrophobia / sizing as well as the surface porosity, which influence printability, coatability and gluability of paper and board.
The ACA Ash Content Analyzer enables the determination of the mineral filler content without combustion, that means without destruction of the samples, within seconds. Both, the total mineral filler content, as well as the individual filler components (e.g. calcium carbonate, kaolin/talcum, titanium dioxide, iron oxide) and their percentage distribution are given.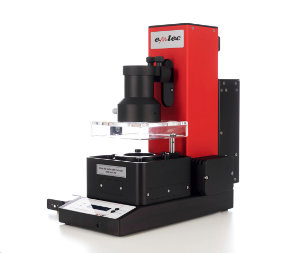 Especially for tissue and nonwoven products, the TSA Tissue Softness Analyzer gives reliable and objective information about the three basic parameters, which determine the human feeling, the softness, roughness and stiffness. From these three, an overall hand feel value can be calculated. The availability of the three individual parameters opens a huge amount of chances for the optimization of the tissue production and converting processes.
If you have a chance to visit the Fabio Perini Open House, at the Pivot Laboratory it will be possible to experience first-hand the Tissue Softness Analyzer in operation and take some measurements. An expert from emtec Electronic will be on site to give you insights and answer all questions.